Dusk to Dawn will host a speaker on suicide prevention
---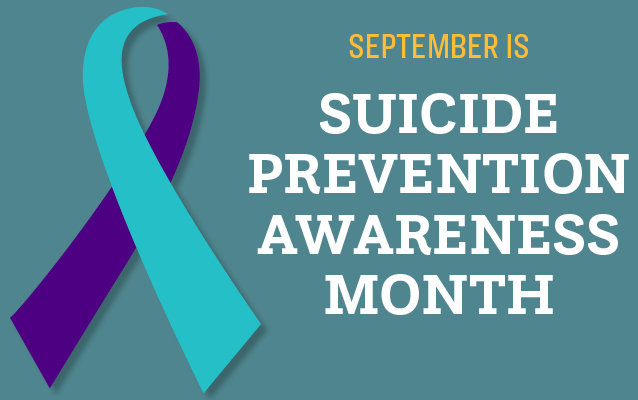 review review
The state of our mental health has become a national emergency. Suicidal thoughts and mental health issues can affect anyone, regardless of age, gender, or background. Suicide is often the result of an undiagnosed or untreated mental health problem.
According to the United States Health Rankings, the suicide rate in the United States has increased by 33% from 1999 to 2019. In Indiana, suicide is the 10th leading cause of death and our state is ranked 27th in the nation for its rate of suicide. In a recent Indiana Youth Institute study, as many as one in five Indiana middle and high school kids admit to having considered suicide.
Though becoming more common, suicidal thoughts should not be considered normal and should be brought to the attention of healthcare professionals. September is Suicide Prevention Awareness Month — a time to raise awareness about this stigmatized and often taboo subject.
"We use this month to change public perception, spread hope and share lifesaving information with those affected by suicide to ensure individuals have access to the help and resources they need to learn more about suicide, as well as how to prevent and treat it," said Cheryl Fuhrmann, Founder and Senior Bereavement Counselor at Dusk to Dawn Bereavement Services.
For families affected by suicide, the devastating effects can be long-lasting. Having herself suffered a loss by suicide in 1985, the weight of Fuhrmann's loss coupled with the inability to access help prompted her to return to school to become a certified grief counselor and to organize as a non-profit organization to help others suffering from the pain of loss.
"We not only counsel those who suffer losses, but we also work to educate and advocate," Fuhrmann said.
"Our educational programs cover a wide variety of topics, including preventing deaths by suicide, advance care planning, and developing effective coping skills to better manage grief and pain."
Dusk to Dawn marks Suicide Awareness Month with a special Lunch and Learn event from noon to 1 p.m. on September 14 at 300 W. South Blvd. The program, "A Second of Hope: How Resilience Saves Lives," will feature nationally recognized speaker, Leslie Weirich via zoom. Weirich has spoken on the topic of suicide prevention with teens and young adults for the past five years.
In January 2021, she became the first suicide prevention specialist at the Oaklawn Community Mental Health Center in northern Indiana. She travels throughout the state of Indiana educating teachers, guidance counselors, parents, and especially teens and young adults about mental health with a focus on suicide prevention.
She shares her personal story of how her 20-year-old son Austin died by suicide on September 10, 2016. That date, which happens to be World Suicide Prevention and Awareness Day, changed her life forever.
His story became even more rare and unique when on this same date in 2018, the co-captain of Austin's college football team also died by suicide. The following weekend, this story received national attention as a sports human interest story and she realized the power of its message and how it could be used to save young lives.
Four months later, Weirich gave his first commencement speech for his state's largest nonprofit and that night they raised $249,000 to put licensed clinical therapists in schools. Since then, she has traveled across the country and was recently invited to share her story with 4,400 active duty soldiers at Fort Bliss Army Base in El Paso, Texas.
Weirich studied journalism at Indiana University and has over 30 years of sales and marketing experience, including 10 years as an executive recruiter. She recently resigned from her full-time position as a Financial Recruiter in May 2020, to devote her time to raising awareness and speaking out on the subject of suicide prevention.
She is a member of the Elkhart County Suicide Prevention Coalition where she lives and has been a guest speaker at their events. She is also certified in Youth Mental Health First Aid as well as QPR in Suicide Prevention. She has pledged to introduce the Sources of Strength suicide prevention program to all middle and high schools in her county over the next two years. She will also be the keynote speaker at the National Suicide Survivors Local Outreach Conference this fall. You can reach Weirich through his website which is LesliesHope.org
Those planning to attend should bring a bag lunch. Participation is free, but donations will be welcome to provide free access to programming for those who are suffering. Make your reservations online at https://dusk-to-dawn.org/learning-series/.
"Together we work to restore the integrity of broken lives and build a healthier community," Fuhrmann said. "If you or someone you know is in an emergency, call or text 988."
To learn more, make a donation, or make an appointment with the local nonprofit, contact them at 765-267-1760; [email protected]; or www.dusk-to-dawn.org. The agency is also present on Facebook and LinkedIn.